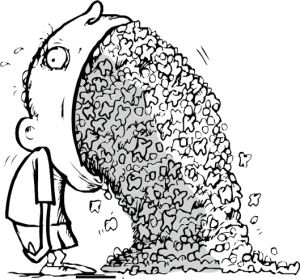 There was once a boy named Timmy who lived with his mother and father in a small house. Timmy was a greedy boy who looked under cushions for change and asked for a raise in his allowance every week. One day Timmy felt a pain in his mouth. He touched the hurting tooth with his finger. It wiggled! He wiggled it and wiggled it until, suddenly, it came out! Timmy, not used to parts of his body falling off, ran to his mother.
"Mommy!" he cried. "My tooth came out and I can't get it back in!" His mother looked at him with a my-little-boy-is-growing-up smile.
"You don't need to put it back in. Soon a new tooth will grow."
"Really?" said Timmy.
"Yes. And if you put the tooth under your pillow tonight, the Tooth Fairy will come and leave you a nice shiny quarter."
"Really?" said Timmy, his eyes filled with greed. "Can I go to bed now?" It was five o'clock.
Timmy wasn't allowed to go to bed until eight, and then he couldn't get to sleep. He was thinking of the nice shiny quarter he'd have in the morning. And, when he finally did sleep, he dreamt of dancing fairies, frolicking teeth, and rivers of bright shiny quarters.
When he awoke, he looked under his pillow. There it was! A quarter! Just like his mother had said.
Wow! he thought. I wish I could lose a zillion teeth! He ran downstairs to join his parents for breakfast. "How'd it go, son?" asked Father.
"Look what I got!" Timmy said, holding the quarter like a trophy.
"Now eat your breakfast like a good little boy," said Mother, "and get your hand out of your mouth!"
"But I want more teeth!" he said, wiggling vigorously. And, just like that, another fell out. "Wow! I'll be rich in no time."
Timmy lost two more teeth that day and went to bed happier than ever. When he awoke, he looked under his pillow. There they were! T"hree shiny quarters! he ran downstairs.
"Mommy! Daddy! The Tooth Fairy came again!" he said, holding up the quarters. Two teeth tumbled out his mouth. "Look—more!"
Timmy lost seven teeth that day and went to bed exploding with excitement. When he awoke, he looked under his pillow. There they were! Seven shiny quarters! he ran downstairs.
"Mommy! Daddy! The … the … hrrrrkkkkk—" Timmy was choking! His mother rushed over and slapped his back. "Hack!" Six teeth fell on the floor. "Look—more!"
"Let's see inside that mouth of yours," said Mother worriedly.
Timmy opened wide. Mother looked in. Teeth were growing before her very eyes!
"Hack!" Ten teeth fell to the floor. "Ahhhhhh!"  screamed Mother.
"What's wrong, Mommy?" said Timmy, struggling to get the words out. "I thought it was … hack… good to … spit! … lose teeth. Soon we'll… splut! … be rich!"
"No we won't," she replied.
"Yes," said Timmy, teeth trickling out. "The … hack … Tooth Fairy will give me … spit … hack … plock … money."
"There is no goddamned Tooth Fairy!" screeched Mother. "It's just a story adults made up so kids won't whine when their baby teeth fall out."
Father, who was walking the dog, heard the commotion and ran in. "What's wrong?"
"Our son isn't right! he isn't right!" said Mother.
Timmy felt bad. he wanted to say something, but he couldn't talk! he couldn't even close his mouth! There were too many teeth! The trickle had turned into a stream.
"Let me take a look," said Father.
But as he approached, the stream became a torrent. A geyser of teeth spewed from Timmy's mouth, sweeping his father, mother, and dog right out the door.
"Ohhhhhhh!" screamed Father. "Ahhhhhhh!" screamed Mother. "Wooooooof!" screamed the  dog.
The house swelled with teeth. Timmy rose atop the growing dentrifical mountain until the back of his head pressed against the roof, which creaked and groaned under the pressure, then—pop!—it came off and Timmy blasted off like a rocket! A mighty plume of teeth trailed behind him as he climbed into the sky, past the clouds, past the moon, and straight into the sun, which consumed him completely.
Down below there was only silence. The town had drowned in an ocean of teeth.
And not all the pillows in the world could have covered them.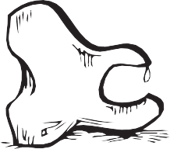 This story is from VERY GRIMM FAIRY TALES by Trevor Strong.
Read the full book here for free.
Illustrations by the great Len Peralta.